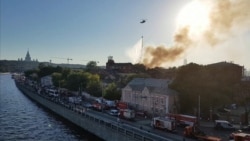 Embed share Explosions Rock Moscow As Fireworks Warehouse Burns Embed share The code has been copied to your clipboard. width px height px The URL has been copied to your clipboard
No media source currently available
0:00 0:00:49 0:00
MOSCOW – A warehouse in central Moscow containing an estimated 15 tons of fireworks caught fire on June 19 and burned for several hours.
Three water-dropping helicopters and a fire boat were sent in to help fight the blaze, as passersby reported hearing multiple explosions from the fire on the Luzhnetskaya Embankment, not far from the huge Luzhniki Stadium complex.
"There are multiple explosions of firecrackers," an unidentified emergency services worker told the state TASS news agency.
Three firefighters and one warehouse employee were reportedly injured in the incident
According to some reports, a neighboring building was also burning.
With reporting by TASS, Reuters, and AP