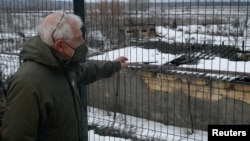 The EU's foreign policy chief, Josep Borrell, is seen visiting the Luhansk region in eastern Ukraine on January 5.
EU foreign policy chief Josep Borrell has reiterated support for Kyiv, saying the bloc has a strong commitment to "massive consequences" for Russia if it were to attack its neighbor again.
Speaking during a trip to Ukraine on January 5, Borrell told a joint news conference with Ukrainian Foreign Minister Dmytro Kuleba that Kyiv and Brussels have a common goal to ease tensions with Russia through "diplomatic means."
The visit, the first by the EU's top diplomat to the contact line in eastern Ukraine where Russia-backed separatists have battled Ukrainian government forces in a nearly eight-year war that has claimed the lives of more than 13,200 people, comes ahead of a week of intense international diplomacy over Moscow's military buildup near the former Soviet republic's border.
"The conflict on the borders is on the verge of getting deeper and tensions have been building up with respect to the European security as a whole," Borrell said of Russia's buildup of around 100,000 troops near Ukraine's borders, which the West fears could be part of preparations for a potential invasion, something Moscow denies.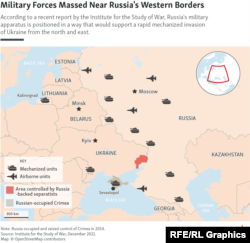 "Any military aggression against Ukraine will have massive consequences and severe costs," Borrell said. "And we are coordinating with the U.S., with NATO, and other like-minded partners in order to work for de-escalation," he added, noting that any talks on security in the area must include Europe and Ukraine.
NATO has announced a virtual meeting of foreign ministers from its 30 member nations on January 7 to discuss the crisis after Moscow demanded sweeping security guarantees from the United States and its allies.
The extraordinary meeting will be followed by talks between U.S. and Russian officials in Geneva on January 9-10 and a meeting of the NATO-Russia Council on January 12.
The council, the main forum for dialogue between the two sides, has met only sporadically since 2014, when Russia invaded and annexed Ukraine's Crimean Peninsula.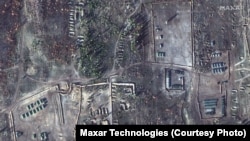 Photo Gallery: Boots On The Ground: Satellite Images Reveal Russian Troop Buildup Near Ukrainian Border And In Crimea
Amid fears of a possible invasion, Ukrainian officials say more than 90,000 Russian troops have been deployed along its border — including on the Crimean Peninsula, which Russia seized by force from Ukraine in 2014. Maxar Technologies, a satellite-imaging company, has released photographs that show the Russian troop buildup.
The NATO-Russia Council meeting will be followed the next day by discussions under the framework of the Organization for Security and Cooperation in Europe (OSCE), which includes the United States and its NATO allies, as well as Russia and Ukraine.
Russia's demands include guarantees that Ukraine and other former Soviet countries will not join NATO and a rollback of the alliance's military deployments in Central and Eastern Europe.
The West has rejected Moscow's ultimatums regarding NATO and threatened Moscow with severe sanctions and other measures if it launches a fresh incursion into Ukraine.
With reporting by AFP, Interfax, and Reuters