Talks represent pair's second conversation this monthRussia massing tens of thousands of troops near border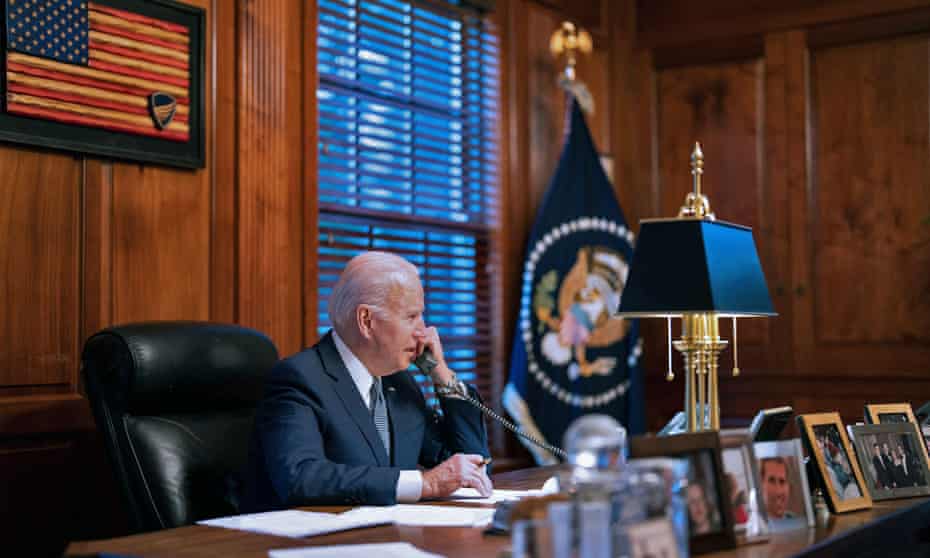 Washington bureau chief@smithinamerica
Joe Biden and Russian counterpart Vladimir Putin have exchanged warnings over the crisis in Ukraine during a 50-minute phone call that did little to lower the political temperature, according to their governments.
Russia has alarmed the US and its allies by massing tens of thousands of troops near its border with Ukraine over the past two months. This follows its seizure of Ukraine's Crimea peninsula in 2014 and its backing of separatists in eastern Ukraine.
Thursday's talks, requested by Putin, were the leaders' second conversation this month but, the White House said, consisted of both men restating their positions – including Biden warning of severe consequences if Putin decides to invade.
"President Biden urged Russia to de-escalate tensions with Ukraine," said Jen Psaki, the White House press secretary, in a statement. "He made clear that the United States and its allies and partners will respond decisively if Russia further invades Ukraine."
In a conference call with reporters, a senior administration official added that Biden had laid out "two paths": one of diplomacy and deescalation, the other of deterrence "including serious costs and consequences" such as economic sanctions, strengthening Nato's force posture and military assistance to Ukraine.
The Kremlin, meanwhile, insisted that Putin had used the call to issue a threat of his own, telling Biden that new sanctions could totally rupture ties between Russia and the US and represent a colossal mistake.
Yuri Ushakov, Putin's foreign policy adviser, was quoted by the Reuters news agency as saying: "Our president immediately responded that if the west decides in this or other circumstances to impose these unprecedented sanctions which have been mentioned then that could lead to a complete breakdown in ties between our countries and cause the most serious damage to relations between Russia and the west."
Ushakov added: "Our president also mentioned that it would be a mistake that our descendants would see as a huge error."
Biden, who is spending the week in his home state of Delaware, spoke to Putin from his home near Wilmington. The White House distributed a picture of the president speaking to the Russian leader from a desk lined with family photos.
The call came ahead of a US-Russia security meeting in Geneva on 9 and 10 January, followed by a Russia-Nato session on 12 January, and a broader conference including Moscow, Washington and other European countries on 13 January.
In the media conference call, a White House official described the conversation as "serious and substantive" but focused on setting the tone and tenor for the diplomatic engagements to come rather than breaking new ground.
The official also acknowledged that Putin offered little clarity as to whether he plans to invade or back down. "We're not going to draw conclusions and there were certainly no declarations as to intentions from this conversation.
"But regardless, our focus is really on actions and on indicators, not on words at this point, so we're going to continue to monitor very closely the movement and build-up of Russian forces on the Ukraine border and prepare ourselves for whatever decision ultimately is made by the Russian president."
Putin, who held a video call with Biden on 7 December, has compared the current tensions to the cold-war era Cuban missile crisis in 1962. He denies planning to attack Ukraine and insists that Russia has the right to move its troops on its own soil.
Moscow has called for legally binding guarantees that Nato will not expand further eastwards and certain offensive weapons will not be deployed to Ukraine or other neighbouring countries. Washington regards some of the demands as non-starters.
Antony Blinken, the US secretary of state, spoke on Wednesday with Ukrainian president Volodymyr Zelenskiy. State department spokesperson Ned Price said Blinken "reiterated the United States' unwavering support for Ukraine's independence, sovereignty, and territorial integrity in the face of Russia's military buildup on Ukraine's borders".