Deal reached for talks on 10 January that are likely to be followed by discussions with Nato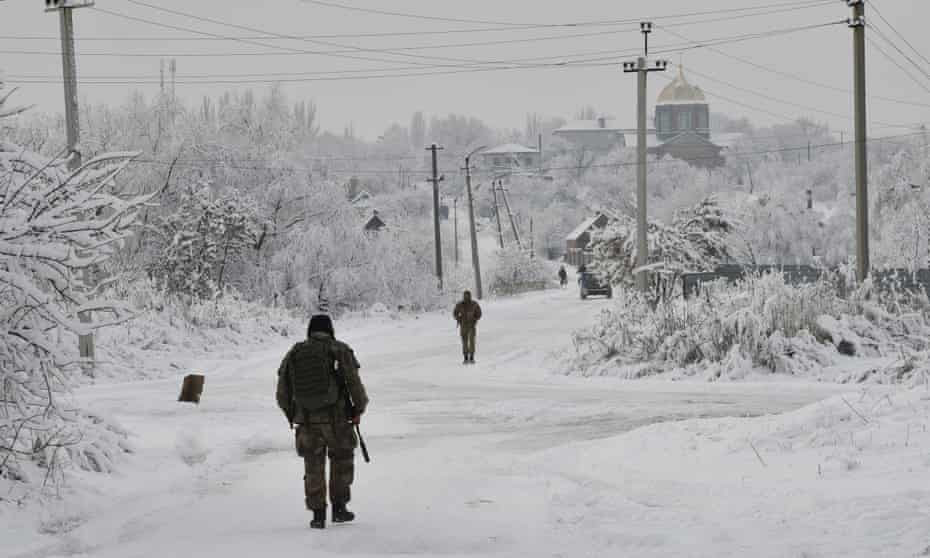 in Moscow and
Russian and US officials will hold security talks in early January amid mounting tensions over Ukraine, officials from both countries have confirmed.
The high-stakes discussions are expected to address Russia's military buildup on Ukraine's borders, while Moscow will press demands that Nato pledges not to admit Ukraine and roll back the alliance's post-cold war development.
A spokesperson for the Biden administration said late on Monday that Russia and Nato would hold talks on 12 January, with a broader regional meeting including Moscow, Washington and several European countries set for 13 January,
Russia's foreign ministry on Tuesday confirmed those dates and said Russia-US talks would take place in Geneva on 10 January , the state-run RIA news agency reported. The deputy foreign minister, Sergei Ryabkov, said he hoped they would begin a process that would give Moscow new security guarantees from the west.
The Russian foreign minister, Sergei Lavrov, said Moscow would take a "hard line" in the talks, aiming to defend its interests and avoid "concessions". There was no immediate word on who would represent the two sides in the talks.
Moscow, which seized Ukraine's Crimea peninsula in 2014 and has since backed separatists fighting in eastern Ukraine, has unnerved the west by massing tens of thousands of troops near the border, sparking fears of a new attack, possibly including further seizures of Ukrainian territory.
Moscow has denied plans for an assault, saying the troop movements are to defend Russia against an encroaching western military, and has not explicitly tied the threat of an eventual assault to the failure of talks with the US.
But Vladimir Putin has said he would review "military-technical responses" if his demands – a wishlist of security proposals, including a promise that Nato would give up any military activity in eastern Europe and Ukraine – are not met.
The US administration has promised swift and brutal sanctions in the case of a Russian incursion.
Ryabkov reacted negatively to reports that the White House was expecting to also discuss arms control and Russia's military buildup at the upcoming talks, saying there was "no need to invent an oversized agenda and to stuff it with issues, which have long been addressed through other channels, to serve one's own interests".
He said Russia would want to "concentrate exclusively" on two draft documents it has submitted, focusing on its draft treaty with Nato, in which Moscow called for the military alliance to pledge not to admit Ukraine and to remove its troops and infrastructure from countries that had joined after 1997.
That document is particularly controversial in Nato's eastern flank, with those countries that joined after the fall of the Soviet Union seeing it as a de facto declaration of a Russian sphere of influence in eastern Europe.
Matters on the agenda besides a ban on Nato enlargement and the rollback of its infrastructure were "secondary", Ryabkov said. If other topics were put on the agenda, Russia would "conclude that the US is not prepared for a serious talk".
He said Russia was "calling for negotiations, which, by the way, need to be intensive and fast" since the problem is "not just ripe, it is overripe". Moscow has "said repeatedly we are no longer able to put up with the situation unfolding in the direct vicinity of our border, we cannot put up with the Nato enlargement," he said.
A spokesperson for the White House's National Security Council, who declined to be named, said on Monday: "When we sit down to talk, Russia can put its concerns on the table, and we will put our concerns on the table with Russia's activities as well.
"There will be areas where we can make progress, and areas where we will disagree. That's what diplomacy is about." No decisions would be made about Ukraine without Ukraine, the spokesperson said.
They added: "President Biden's approach on Ukraine has been clear and consistent: unite the alliance behind two tracks – deterrence and diplomacy. We are unified as an alliance on the consequences Russia would face if it moves on Ukraine."
The US president, Joe Biden, signed into law a large spending bill on Monday that, among other things, will provide $300m for an initiative supporting Ukraine's armed forces, and billions more for European defence broadly.
Ukraine's border service said on Tuesday that the US would finance $20m-worth of projects, including surveillance and monitoring equipment such as video recording systems and drones, to strengthen Ukraine's borders with Russia and Belarus.