Analysts say crisis that has led to collapse of suppliers and threatened factory production could deepen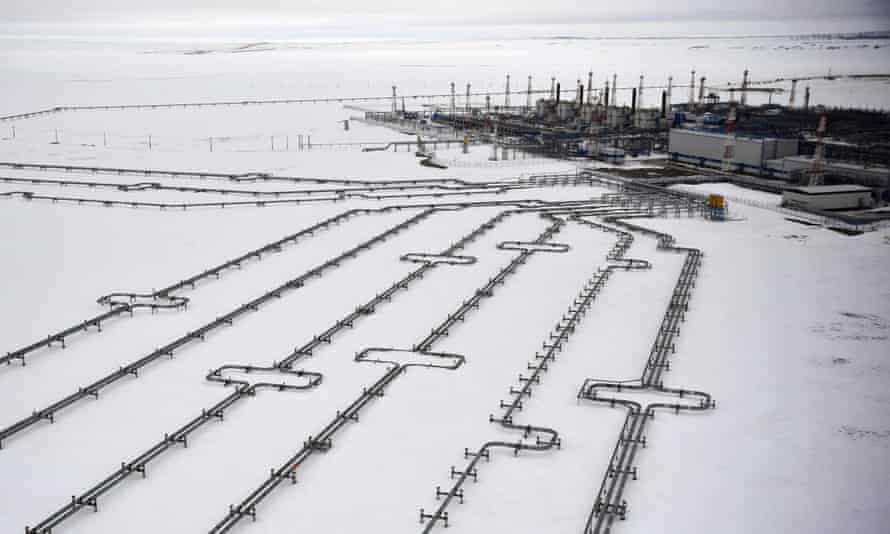 @ByRobDavies
Wholesale gas prices have reached new all-time highs, stoking concern that a cold winter could deepen a crisis that has led to the collapse of multiple energy suppliers and raised fears of factory shutdowns and soaring bills.
The cost of coal and carbon emissions permits also hit record levels on Tuesday, while crude oil exceeded $80 a barrel for the first time in three years, amid a widening global energy supply crisis.
Gas for delivery in winter to British buyers jumped by more than 20% to 218.4p a therm during late morning trading. European gas prices rose by 10%, with price pressure exacerbated by a dwindling supply from Russia.
Supply dropped on Tuesday as the flow of Russian gas via the Yamal-Europe pipeline fell by more than half, the Interfax news agency reported, citing data from the grid operator Gascade.
The situation in the UK, where market prices have quadrupled in the past year, is particularly acute.
Europe-wide price rises have been compounded by the UK's unusually low gas storage capacity, as well as outages in the electricity system, including a fire at a key power import cable, leading to increased reliance on gas power plants.
Consumers have been warned to expect higher bills and more household energy supplier failures, while heavy industry and the food and drink sector are facing the prospect of shutdowns and pre-Christmas product shortages.
The "winter gas season", when heating demand is usually higher, starts on 1 October and there are predictions of a colder than average winter.
While ministers have insisted the UK has enough gas to avoid the lights going out or a 1970s-style three-day working week, analysts warned low temperatures could exacerbate the crisis.
"If the winter is colder than normal, natural gas supplies could run even shorter, leaving Europeans and possibly other countries, especially those that can barely afford current energy prices, in the cold," said analysts at SP Angel.
Their counterparts at Refinitiv warned that even warmer than expected temperatures "might not be enough" to bring down prices. "We conclude that additional supply is a key driver for prices to soften this winter," they said.
Supplies of Russian gas via the Yamal-Europe pipeline dropped to 15,021 megawatt hours (MWh) per hour on Tuesday morning from 35,131 MWh per hour on Monday.
A group of European politicians wrote to the European commission this month calling for an investigation into whether the Russian state gas company Gazprom was acting deliberately to stem the flow of gas into Europe.
They expressed fears that Russia was wielding its regional gas supremacy to ramp up pressure to approve the Nord Stream 2 pipeline, which has been subject to sanctions and is awaiting multiple regulatory approvals.
A Kremlin spokesperson denied Russia was using gas as a weapon against Europe and said Gazprom was ready to boost supplies to Europe.
As gas prices rose, oil followed suit, with Brent trading above $80 a barrel for the first time in three years before falling again as traders pocketed profits.
Markets were reacting in part to the gas crisis, amid expectations that some factories would switch to oil to power their operations. Goldman Sachs has predicted Brent crude could hit $90 by the end of the year.
The resurgence of economies such as China and India after Covid-19 slowdowns has also forced up the price of fossil fuels, with thermal coal, used to generate electricity, up 96% this year.
Price pressure has been driven by an energy crunch in China, where attempts to decarbonise have met the reality of widespread factory outages and interrupted power supply to homes as winter approaches, fuelling coal demand.
As fossil fuel prices soared, so did the cost of allowances to emit carbon dioxide.
Tim Dixon, the lead analyst at Cornwall Insight, said: "UK emissions trading scheme carbon prices also recorded [their] largest-ever day-on-day rise on our records, jumping £8 per tonne tonne this morning to reach an all-time high of £75 per tonne,.
"Rising energy prices and ongoing high auction demand for carbon allowances are pushing this upwards."
As UK gas prices for winter rose, other benchmark gas prices did the same, with the British day-ahead contract jumping 4.75p to 178.00 p a therm in
early morning trading.
The October gas price at the Dutch TTF hub, a European benchmark, was up €7.47, or 9.7%, at €84.00 a megawatt hour (MWh).