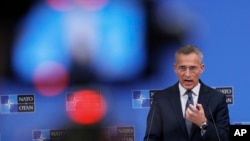 NATO Secretary-General Jens Stoltenberg speaks to reporters after an extraordinary meeting of NATO foreign ministers in Brussels on January 7.
NATO Secretary-General Jens Stoltenberg has pledged to engage "in good faith and on substance" in talks with Russia next week, but he said the alliance will not compromise on core principles, including the right of nations to decide whether they want to join.
Stoltenberg spoke at a press conference on January 7 in Brussels after a videoconference of NATO foreign ministers, saying the meeting had stressed "that any further aggression against Ukraine would have significant consequences and carry a heavy price for Russia."
But he appeared to dismiss a key Russian demand on NATO expansion.
"We will not compromise on core principles, including the right for every nation to decide its own path, including what kind of security arrangements it wants to be a part of," Stoltenberg told reporters.
Stoltenberg also said a Russian military buildup near Ukraine has continued.
"We see armored units, we see artillery, we see combat ready troops, we see electronic warfare equipment, and we see a lot of different military capabilities," he said.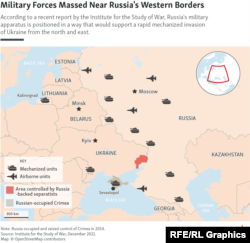 The buildup, combined with Russia's security demands, and its track record in Ukraine and Georgia, "sends a message that there is a real risk for a new armed conflict in Europe," Stoltenberg said.
The U.S. Mission to NATO said earlier that NATO's 30 members were united against Russian military action in Ukraine.
"Ahead of the forthcoming NATO-Russia Council, they underlined the need for diplomacy, dialogue, and de-escalation," the mission said on Twitter.
Latvian Foreign Minister Edgars Rinkevics echoed the U.S. mission's comments, saying on Twitter the alliance is "ready to engage in dialogue with Russia but not at the expense of our values or key principles."
The foreign ministers held the videoconference amid Western warnings about tens of thousands of Russian troops amassed near the border and with Russian President Vladimir Putin demanding guarantees that NATO won't allow Kyiv to join the transatlantic military alliance.
Ukraine, which has been fighting a war with Russia-backed separatists in its east since Russia invaded and annexed Crimea in 2014, has repeatedly asserted its strategic and foreign policy goal of NATO membership since the alliance promised eventual full membership in 2008.
Moscow has responded by accusing the United States of destabilizing the Black Sea and other nearby regions and saying its troop movements are an internal matter.
U.S. Defense Secretary Lloyd Austin spoke with Russian Defense Minister Sergei Shoigu on January 6 about "risk reduction near Ukraine's borders," according to the Pentagon.
The NATO foreign ministers' meeting was the first in a flurry of high-level talks involving NATO, senior U.S. and Russian officials, and the Organization for Security and Cooperation in Europe (OSCE) over the next week.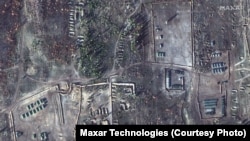 Photo Gallery: Boots On The Ground: Satellite Images Reveal Russian Troop Buildup Near Ukrainian Border And In Crimea
Amid fears of a possible invasion, Ukrainian officials say more than 90,000 Russian troops have been deployed along its border — including on the Crimean Peninsula, which Russia seized by force from Ukraine in 2014. Maxar Technologies, a satellite-imaging company, has released photographs that show the Russian troop buildup.
The first is scheduled to take place in Geneva on January 10 when veteran U.S. and Russian diplomats are scheduled to gather in an effort to avert a crisis. The same day, Ukrainian Foreign Minister Dmytro Kuleba will visit NATO headquarters in Brussels.
The NATO-Russia Council is then slated to meet for the first time since 2019 on January 12 to discuss Ukraine, transparency, and risk reduction.
EU foreign ministers then meet in northwestern France on January 13-14, with reports suggesting they and their allies are preparing harsh punitive measures to be enacted if Russia escalates militarily against its neighbor.
French President Emmanuel Macron welcomed direct U.S.-Russian talks slated for next week but stressed that "European security architecture" is "up to us to build."
France officially took up the six-month, rotating European Union Presidency at the start of January. Macron spoke alongside European Commission chief Ursula von der Leyen on January 7, both stressing the need for European involvement.
"One thing is clear: no solution without Europe. Whatever the solution, Europe has to be involved," von der Leyen said.
Von der Leyen said the European Union is "very present" in Ukraine, including through billions in financial assistance to Kyiv and the bloc's reliance on Russian natural-gas shipments through Ukraine.
Western leaders are said to be working on what they have pledged are tough financial and other punitive measures to be implemented if Ukraine escalates militarily against Ukraine.
Macron said "it's a good thing that there are discussions between the United States and Russia," and added that "coordination between the Europeans and Americans is exemplary on the matter."
But he called for the European Union to hold its own talks with Moscow.
"Dialogue does not mean making concessions," he added.
With reporting by Reuters, AFP, AP, dpa, and Politico