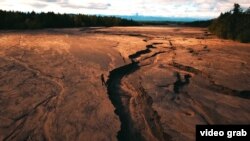 A view of a dry river bed in Kamchatka Peninsula (file photo)
Nine people have been found alive after a helicopter crashed on August 12 on the Kamchatka Peninsula in Russia's Far East, Russian media reported, quoting local government officials.
A search is under way for the remaining seven people who were on board the helicopter when it went down shortly before 10 a.m. local time in the Kronotsky Nature Reserve.
The Russian Emergencies Ministry said 13 of the people on the helicopter were passengers; three were crew.
Marina Volkova, Kamchatka territory's deputy health minister, said there were nine survivors.
"According to our information, nine people survived. Information on the rest of the tourists and crew members is being investigated," she said.
Seven of the survivors were passengers and two were crew members, TASS reported, citing an emergency service representative.
The Emergencies Ministry quoted the regional administration as saying the Mi-8 helicopter plunged into Lake Kuril in a volcano crater in the nature reserve and sank. Rescue workers in boats and divers were searching for other survivors.
The rescue operation involves dozens of people from the ministry and from the district hospital.
According to the press service of the Kronotsky Nature Reserve, the helicopter belongs to the Vityaz-Aero company. The aircraft was manufactured in 1984 in Ulan-Ude. Vityaz-Aero has been operating since 2009 and has a fleet of more than 20 Mi-8 helicopter, TASS reported.
Kamchatka Peninsula is more than 6,000 kilometers east of Moscow and is popular among tourists for its scenery and nature.
The crash of the helicopter comes just over a month after a Russian plane crashed on Kamchatka peninsula, killing 28 people on board. Officials blamed that crash on pilot error.
With reporting by AP, AFP, Reuters, dpa, and TASS