US president hails 'good and positive' talks but added 'proof of the pudding is in the eating'
in Geneva and
The US will retaliate if Russia continues to carry out malicious cyber-attacks against American targets, Joe Biden said on Wednesday, after holding "good and positive" talks in Geneva with Russia's president, Vladimir Putin.
Speaking after their first face-to-face summit, Biden said he had made clear the Kremlin had to "abide by the rules of the road" or face unspecified consequences. Putin was aware the US possessed "unrivalled" cyber capacities, Biden stressed.
After three hours of talks, Biden said he wanted to reestablish US-Russian relations on a predictable and pragmatic footing, after the chaos and embarrassment of the Trump era. He did not believe Putin wanted a new cold war, but admitted he did not know if his Russian counterpart would change his behaviour.
The US president added: "It's about self-interest and the verification of self-interest. Or, as the old expression goes, the proof of the pudding is in the eating".
The summit held at a picturesque 18th-century mansion overlooking Lake Geneva ended on an optimistic note, with both leaders cautiously praising the other. Biden said their discussions had been "good", without "strident action" or a "hyperbolic atmosphere".
Speaking in his solo press conference, Putin said the discussions were conducted without "hostility". "Quite the contrary," he said. He described Biden as a balanced and experienced person who "spoke the same language", and who had talked fondly about his family and mother.
Putin added: "It showed an understanding of his moral values. That's all quite attractive. It doesn't mean we looked into each other's eyes or souls. We have to represent our countries. The relationship is a pragmatic one."
The summit – carried out amid low expectations – got results. Both sides agreed that their ambassadors would return to their posts in Moscow and Washington, at a date to be fixed.
The Kremlin recalled its envoy to the US after Biden described Putin in a TV interview as a "killer". His US counterpart, John Sullivan, flew home in April. Their return represents modest progress in relations, following a long and bitter period of acrimony.
The two leaders also announced a new expert US-Russian working group which would consult over a wide range of issues. They include the renewal of the Start Three nuclear treaty, which is due to expire in 2024, and cybersecurity.
Putin denied that Russia was behind a string of recent cyber-attacks on the US, among them last year's devastating Solar Winds intrusion into federal institutions and the 2016 raid on Democrat party servers. Washington has attributed both incidents to Russian intelligence operatives.
Biden said he had made it clear to Putin that his administration would respond if the Kremlin again violated American sovereignty. He said he had given Putin a list of 16 critical American infrastructure facilities, including in the energy and fuel sector, which was the subject of a recent ransomware attack by alleged Russian criminals.
America would continue to raise the issue of human rights inside Russia, Biden added. He said it would be "devastating" if the opposition leader Alexei Navalny were to die in jail, following his arrest in January by Russian authorities. Putin is accused of ordering Navalny's poisoning last summer in Siberia with the nerve agent novichok.
Putin, however, said Navalny had "broken the law" on several occasions and implied that he was an American agent. He refused to use Navalny's name, calling him "this person". Putin shrugged off claims he had repressed domestic critics, and accused the US Congress of supporting undesirable Russian anti-government "political organisations".
He also suggested the 400 pro-Trump protesters who stormed the Capitol building in Washington on 6 January were the victims of political and legal US persecution. Biden dismissed the comparison to peaceful anti-Kremlin demonstrators in Russia as "ridiculous". The Capitol rioters were "criminals" who killed a police officer, Biden pointed out.
Biden and Putin met on Wednesday for both one-on-one talks and with their wider teams.
The Russian president's plane flew in over a quiet Lake Geneva, touching down at 12.27pm local time (11.27 BST), the day after Biden arrived in the Swiss city following the G7 summit in Cornwall and Nato talks in Brussels. Uncharacteristically Putin arrived at the Villa La Grange summit venue on time. Biden followed minutes later and was greeted by the Swiss president, Guy Parmelin, surrounded by Russian, American and Swiss flags. Biden and Putin posed for a brief photocall in front of the mansion and shook hands. There was a glimmer of a smile from both before they went inside.
They reappeared together inside the mansion's book-lined library. Biden seemed relaxed. In what has become a familiar pose, Putin leaned back into his chair, legs sprawled. Aides then evicted a large and chaotic press pack. The historic summit talks began in two by two format, with Biden flanked by the US secretary of state, Antony Blinken, and Putin accompanied by his veteran foreign minister, Sergei Lavrov.
The conversation in this smaller group lasted about an hour-and-a-half. The talks expanded into a larger bilateral meeting, with delegations from both sides, wrapping up soon after 5pm local time, a White House official said.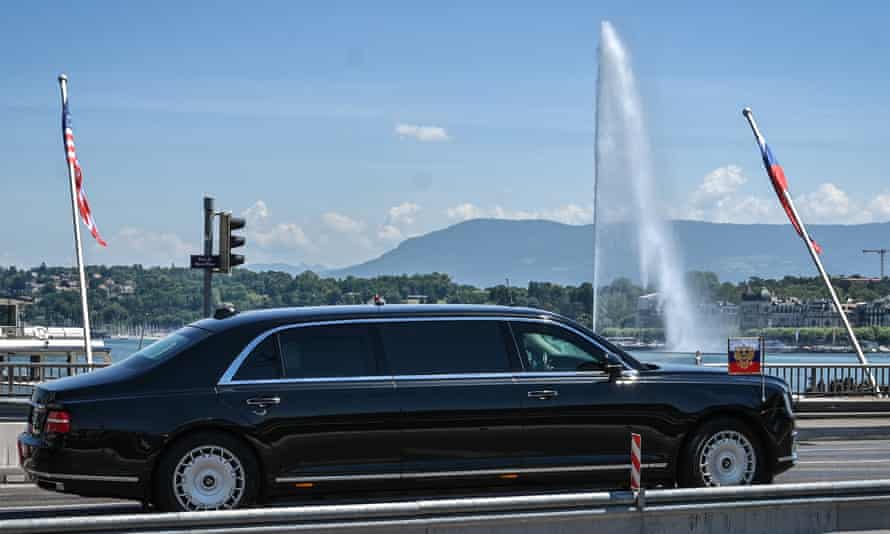 Ahead of Wednesday's meeting, Biden had said he was seeking "stable, predictable" relations with Russia despite claims that Putin has interfered in American elections, provoked wars with his neighbours, and sought to crush dissent by jailing opposition leaders.
Putin brought his own list of grievances to Geneva in his first trip abroad since the outbreak of the coronavirus in 2020. He has expressed anger about US support for Ukraine's government and claims of opposition backing in Russia and neighbouring Belarus, as well as the expansion of Nato into eastern Europe.
Speaking after the talks Biden said he had reaffirmed the US's commitment to Ukraine's territorial integrity. He also cited several areas where Moscow and Washington could work usefully together, including Afghanistan, Syria and the Arctic region.
Wednesday's summit was the first meeting between US and Russian leaders since Putin met Donald Trump in Helsinki in 2018. In a meeting seen as deeply embarrassing for the US, Trump appeared to kowtow to Putin by rejecting his own FBI's assessment that Russia had interfered in the 2016 US presidential elections. "President Putin says it's not Russia. I don't see any reason why it would be," he told journalists. An aide later said she had considered faking a medical emergency to end the joint press conference.
The two presidents brought senior diplomatic and military advisers to the villa summit. They included Russia's chief of general staff, Valery Gerasimov, responsible for developing the doctrine of "hybrid war". Hundreds of journalists flew in for the talks, which shut down much of the city centre, including the coastline of Lake Geneva.